Update Required
To play the media you will need to either update your browser to a recent version or update your
Flash plugin
.
Lyrics
COLLISIONS
While we're all floating out of view, it doesn't matter, cos' I won't enter in your life. But now we're here and like a gift from above our lives have aligned. Yes, I'm now here with you. Now we're here and every soul may be wasted. I have arrived. Oh you know I have.
Ooh oh oh so lonely. Ooh oh oh so lonely. We are not illusions. We are only reasons. We are all collisions waiting to arrive. We are all collisions. You are in the way. Maybe you can sense us by the time we break away and burn.
Aligns us all, this faithful gravity pull. Our lives have aligned. Out of nowhere, you'll find that we'll soon be gone. You can try to run.
Get in the way, you'll lose your life. Come into land in the sunlit sky. Feeling like this sky's the limit. You can't wait to get in the way. You and I. Not gonna help if you run inside. I'll invade this sunlit land, I'm falling for you. You can try to run, you will have to burn. I knew someday we would rain and we'd collide.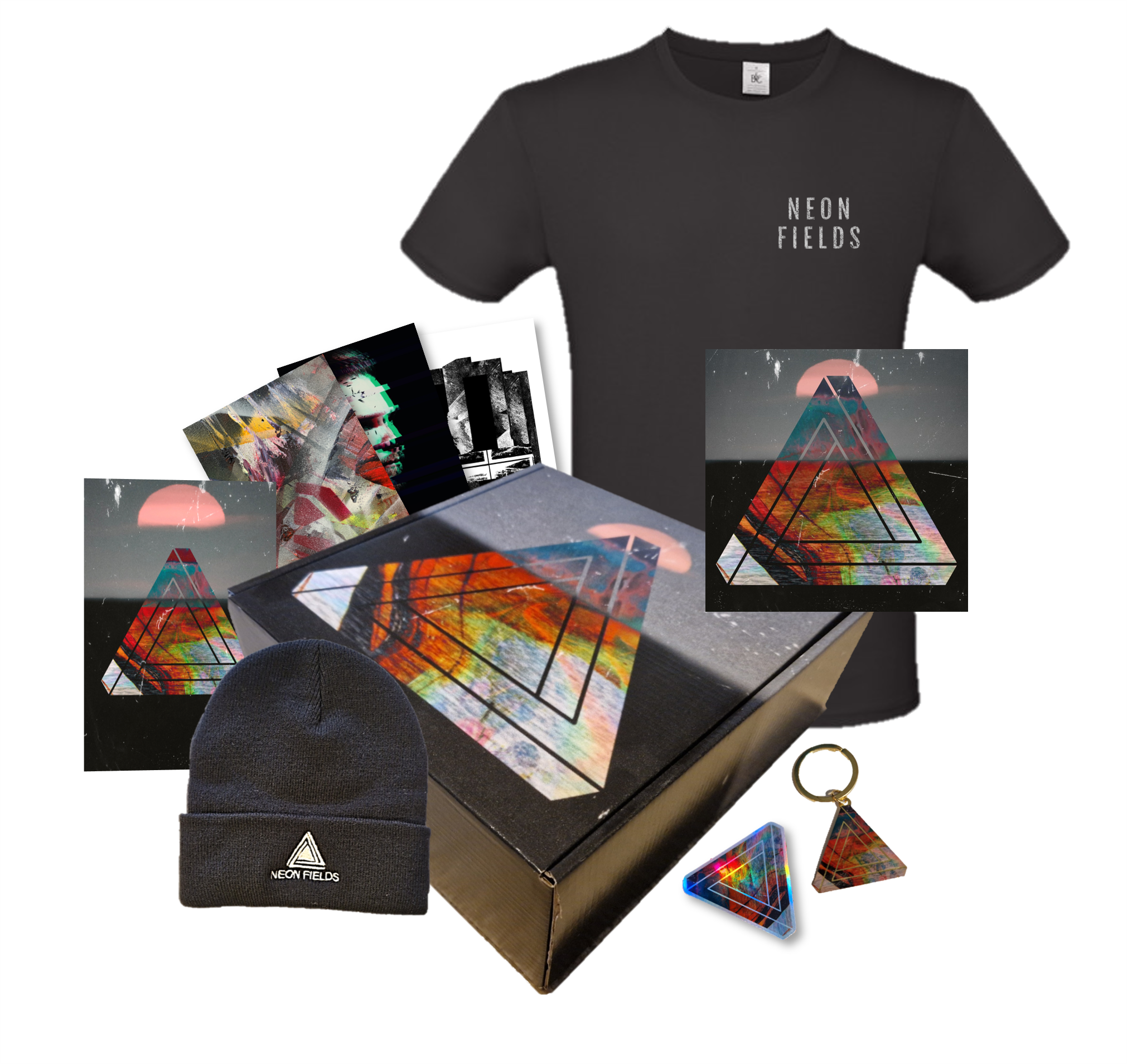 Neon Fields Deluxe Box Set
Overall, 'Light Them Up' is pure excitement and energy. There's no hectic feel present, it's as if the track knows exactly what it is doing. As if it all was said and done long before the track even started.
I really like this ever-knowing wisdom connected to the tune. Circling around the theme of a paranoid schizophrenic who's convinced that he is being watched and hunted, the track manages to transmit this exact uncomfortable feel, but with an overwhelming pressurized undertone.
Read the full review here
Neon Fields light the touch paper in standout debut release. 'Light them up' is the standout debut from South West UK band Neon Fields. It is 6 minutes 40 seconds in length but unlike some Netflix series, at no point does this seem overstretched or lack periods of quality. It feels like the band take us on an epic journey from start to finish. It doesn't follow the scripted patterned format that you see in many songs and it holds intensity throughout, evoking anticipation in the masses.
Read the full review here
Tonight's highlight goes to "Bleak", the third single from Brits Neon Fields. The vocals was what most caught my attention in "Bleak". Ed Barrett is overwhelming in his interpretation, which shines brightly and breaks through the darkest and most doomed environment, like a ray of hope. Everything is delivered with emotion, and above all, is entirely real. The ever overlapping instrumental accompanies all of this, growing and decreasing in intensity at the right times.
Read the full review here